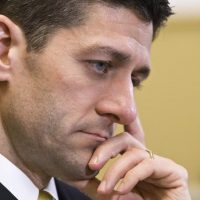 House Speaker Paul Ryan's attempted coup of Republican presidential candidate Donald Trump may have failed.
Ryan said his attack was aimed at protecting Republican control of the House. But it may cost him his own job — and his long-term ambitions.
Ryan's announcement this week that he won't campaign for his party's presidential nominee, and that his fellow Republican Congressional candidates were free to abandon Trump, caused pro-Trump Republicans to suggest they may not back his re-election as speaker.
"Given the stakes of this election, if Paul Ryan isn't for Trump, then I'm not for Paul Ryan," Oklahoma Rep. Jim Bridenstine, said Wednesday on Twitter.
Assuming Republicans remain in control of the House after November's elections, Ryan will need every GOP vote he can get to keep his post.
That's far from a sure thing now.
Ryan, 46, was his party's 2012 vice presidential candidate and many think his anti-Trump stance is meant to set up his own run for the GOP presidential nomination in 2020 or beyond.
Losing an election for the speakership could be a blow to any of these loftier political ambitions, however.
Ryan's tactic has infuriated Republicans and conservatives in and out of Congress, especially Trump's die-hard backers, who consider Ryan's decision a betrayal that will weaken Trump's chances of winning.
"I suspect whatever he said would be a no-win for unanimity" among Republicans, former New York Rep. Tom Reynolds, who led the House GOP's campaign organization a decade ago, said Wednesday. "He's walking on a tightrope, like any speaker up for re-election."
On Monday, Ryan told House Republicans in a conference call that he will spend the remaining weeks until Election Day working to keep GOP control of his chamber, and do nothing to help Trump. That call came after the revelation of a 2005 video showing Trump making crude remarks about women.
Trump has since assailed Ryan with a bombardment of tweets and remarks. He said Wednesday while campaigning in Ocala, Florida, that Ryan and other Republicans are involved in a "sinister deal" against him.
Bridenstine is a conservative and a member of the House Freedom Caucus, which often bucks leadership. But he backed Ryan when the House elected him speaker last October.
California Rep. Dana Rohrabacher, who also supported Ryan then, hinted in an interview with
The Associated Press
that he might not favor keeping Ryan in the House's top job.
"I never doubted he should be speaker. However, if he can't prevent himself from panicking and helping the enemy in a situation like this, well, then we'll find out," Rohrabacher said Monday.
House Republicans meet after the November elections to select their nominee for speaker. Ryan would need 218 votes — a majority of the chamber's 435 members — to become speaker when the full House votes in January.
There are currently 246 House Republicans, plus a vacant seat they seem likely to retain.
But that number will likely shrink after Election Day, with GOP moderates among the likeliest to lose. That means a greater proportion of conservatives, some of whom are hostile to established GOP leaders, and indicates that Ryan may not be able to afford losing much support.
Ryan succeeded former Speaker John Boehner, who retired last October after it became clear that opposition from conservatives within his party's caucus meant he did not have the votes to retain his job.
Ryan's head could be next for the chopping block.
Do you support, or oppose, Paul Ryan's attack against Donald Trump? Comment below.
The Associated Press contributed to this article