Saturday, October 15, 2016
Posted by

Jack
at 6:31 AM
No comments:
Links to this post

by
Rebecca Diserio
Linda Tripp, the former White House aide and friend of Monica Lewinsky whose workspace was located directly adjacent to Hillary Clinton's second-floor West Wing office, is confirming long-reported accounts of the former First Lady's darkest moments. Hillary's long list of psychotic behavior, including throwing objects at Bill Clinton's head, is now exposing just how sick the presidential candidate has always been.
Linda Tripp, who's best known as Monica Lewinsky's confidant during her well-known affair with former President Bill Clinton, is coming forward with new details about Hillary's scandalous behavior in the White House.
Tripp … described what she characterized as Hillary Clinton's significant temperament issues, including "endless screaming" and the constant use of profanity, as well as a general disdain for the U.S. electorate, the Armed Services and the honor and dignity of the institution of the American presidency, calling her public persona a "smoke and mirrors act." [Source: Breitbart]
Most troubling is what Tripp said about Hillary's need to reach the presidency herself. Even back in the early 1990s, Hillary's plan was to become president. Tripp said, "[A]s early as the first days of the Bill Clinton administration there was already talk amongst senior staff about a future Hillary Clinton presidency,
a position to which Hillary Clinton believed herself entitled.
"
Tripp said that Clinton's method of attacking Donald Trump on temperament is positively mind-boggling for those of "us who did get a first-hand peek behind the Clinton curtain." Tripp said, "[If voters saw the real] Hillary, they'd see a coarse, profane political operative. With no moral compass. And a complete willingness to manipulate the rule of law to her benefit. They would see a fearsome, paranoid individual with zero concern for the masses. She sees the voting block merely as a necessary evil to achieve her goals. She is a total impressive smoke and mirrors act."
Most of us realize that Hillary is unfit to be president, but to hear that she already had contempt for the American people when she was First Lady and was already planning on becoming president is a little shocking. That means for 25 years Hillary's one goal in life has been to be the leader of the free world, and anything that gets in her way will be eliminated.
Throwing objects at Bill's head is one thing, but Hillary's behavior is seen in sociopathic personalities who have zero empathy towards others. Master manipulators put on an act in public, but those like Linda Tripp, who saw the real Hillary, know that she has no business having any kind of power. She needs to retire, and Americans need to be done having the Clintons in charge of anything.
Posted by

Jack
at 5:47 AM
No comments:
Links to this post

Friday, October 14, 2016
oped: See: http://sharlaslabyrinth.blogspot.com/2016/10/did-clinton-campaign-have-prior.html
By Liberty Alliance
Julian Assange may very well be the hero of this election and of this generation, and he may be saving the world by preventing the Wicked Witch of Benghazi from taking the throne. His bombshell email dumps are coming at such a rapid pace right now I can barely keep up with them.
Two hacked-and-leaked emails exchanged between Hitlery Chief of Goons John Podesta and Democrat Party soldier Steve Elmendorf are rumored to be a discussion of the assassination of Supreme Court Justice Antonin Scalia.
Some may consider it a reach, but "wet works" is a term commonly used in the espionage field, meaning "spilling blood" or "assassination". Cibolo Ranch, where Justic Scalia was enjoying a hunting trip, has a pool near a vineyard. There appears to be an email or two missing here that would identify exactly what the two were discussing. Maybe we are yet to see those. Good job, WikiLeaks!
Two hacked-and-leaked emails exchanged between Hitlery Chief of Goons John Podesta and Democrat Party soldier Steve Elmendorf are rumored to be a discussion of the assassination of Supreme Court Justice Antonin Scalia.
Some may consider it a reach, but "wet works" is a term commonly used in the espionage field, meaning "spilling blood" or "assassination". Cibolo Ranch, where Justic Scalia was enjoying a hunting trip, has a pool near a vineyard. There appears to be an email or two missing here that would identify exactly what the two were discussing. Maybe we are yet to see those. Good job, WikiLeaks!
Continue Reading
Posted by

Jack
at 4:48 PM
No comments:
Links to this post

Thursday, October 13, 2016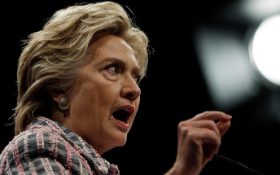 According to her critics, Democratic presidential candidate Hillary Clinton's past is a series of smokey backroom deals, shady foreign donors, and corrupt backscratching.
This may be the most outrageous example yet.
In an email to her campaign chairman John Podesta in 2014, Clinton confesses to knowing that Saudi Arabia and Qatar's governments were giving both financial and logistic support to Islamic terror groups, including ISIS. That's according to a recent WikiLeaks release, which published years of Podesta's emails this week.
At the same time, Clinton's controversial foundation was accepting millions in donations from those same governments. "Qatar has given between $1 million and $5 million to the Clinton Foundation and Saudi Arabia has donated upwards of $25 million dollars to the Foundation,"
The Daily Caller
reports.
In their 2014 exchange, Clinton admits to Podesta — then-aide to President Barack Obama — that, "While this military/para-military operation is moving forward, we need to use our diplomatic and more traditional intelligence assets to bring pressure on the governments of Qatar and Saudi Arabia, which are providing clandestine financial and logistic support to ISIL and other radical Sunni groups in the region," using another acronym for ISIS.
Posted by

Jack
at 3:08 PM
No comments:
Links to this post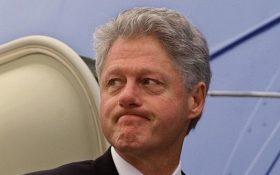 There's been a lot of talk recently about sexual assault and presidential candidates.
Democratic presidential candidate Hillary Clinton's campaign has let all sorts of accusations fly at GOP rival Donald Trump — but there's one bombshell Clinton probably wasn't expecting.
A new book is raising questions about former President Bill Clinton's already sleazy sex history — and if true, these allegations could TOTALLY shake up the 2016 presidential campaign.
Bill Clinton's disgusting past as a sexual predator is back in the limelight in a book released Monday by bestselling author James Patterson.
Patterson's book, "Filthy Rich," chronicles the pedophilia and sexual assault allegations against billionaire Jeffrey Epstein and his oddly close friendship with Clinton.
The "Lolita Express" was Epstein's private jet. Clinton had taken at least 10 flights on the Lolita between 2001 and 2003, suspiciously foregoing Secret Service detail at least five of those flights, Fox news
reported
.
This jet soon became infamously known as one of Epstein's favorite locations to take advantage of underage girls, and Clinton's request to fly solo became much more suspicious, Patterson says.
This isn't a fringe lunatic writing this, either. Patterson is one of the best-known authors in America, and the 300-page non-fiction novel has an original print run of 500,000 copies and is predicted to be a best seller.
It describes the close relationship between the two powerful men, and the injustice of the alarmingly short, 13-month sentence Epstein received following his disgusting sexual escapades and abuse accusations.
Patterson describes Epstein's case as a "year long assault" on prosecutors, alleging they were biased and weren't fit to be on the case. His victims attempted to appeal the leniency of the sentence, but consistently failed.
Epstein owned a private island that famously became known as "orgy island," a place that Clinton visited numerous times between 2002 and 2005, according to the
Daily Mail
.
The two were such close friends, that Epstein had the former president's email addresses and multiple phone numbers. Clinton praised Epstein for his "insights and generosity," and legal documents revealed that Clinton owed 'favors' to Epstein.
Epstein even claimed to be a co-founder of the Clinton Foundation in his plea deal and received a lesser sentence for operating a sex ring with underage girls due to his charitable work with Clinton's family foundation.
— The Horn editorial team
Posted by

Jack
at 3:03 PM
No comments:
Links to this post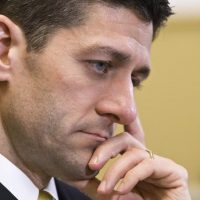 House Speaker Paul Ryan's attempted coup of Republican presidential candidate Donald Trump may have failed.
Ryan said his attack was aimed at protecting Republican control of the House. But it may cost him his own job — and his long-term ambitions.
Ryan's announcement this week that he won't campaign for his party's presidential nominee, and that his fellow Republican Congressional candidates were free to abandon Trump, caused pro-Trump Republicans to suggest they may not back his re-election as speaker.
"Given the stakes of this election, if Paul Ryan isn't for Trump, then I'm not for Paul Ryan," Oklahoma Rep. Jim Bridenstine, said Wednesday on Twitter.
Assuming Republicans remain in control of the House after November's elections, Ryan will need every GOP vote he can get to keep his post.
That's far from a sure thing now.
Ryan, 46, was his party's 2012 vice presidential candidate and many think his anti-Trump stance is meant to set up his own run for the GOP presidential nomination in 2020 or beyond.
Losing an election for the speakership could be a blow to any of these loftier political ambitions, however.
Ryan's tactic has infuriated Republicans and conservatives in and out of Congress, especially Trump's die-hard backers, who consider Ryan's decision a betrayal that will weaken Trump's chances of winning.
"I suspect whatever he said would be a no-win for unanimity" among Republicans, former New York Rep. Tom Reynolds, who led the House GOP's campaign organization a decade ago, said Wednesday. "He's walking on a tightrope, like any speaker up for re-election."
On Monday, Ryan told House Republicans in a conference call that he will spend the remaining weeks until Election Day working to keep GOP control of his chamber, and do nothing to help Trump. That call came after the revelation of a 2005 video showing Trump making crude remarks about women.
Trump has since assailed Ryan with a bombardment of tweets and remarks. He said Wednesday while campaigning in Ocala, Florida, that Ryan and other Republicans are involved in a "sinister deal" against him.
Bridenstine is a conservative and a member of the House Freedom Caucus, which often bucks leadership. But he backed Ryan when the House elected him speaker last October.
California Rep. Dana Rohrabacher, who also supported Ryan then, hinted in an interview with
The Associated Press
that he might not favor keeping Ryan in the House's top job.
"I never doubted he should be speaker. However, if he can't prevent himself from panicking and helping the enemy in a situation like this, well, then we'll find out," Rohrabacher said Monday.
House Republicans meet after the November elections to select their nominee for speaker. Ryan would need 218 votes — a majority of the chamber's 435 members — to become speaker when the full House votes in January.
There are currently 246 House Republicans, plus a vacant seat they seem likely to retain.
But that number will likely shrink after Election Day, with GOP moderates among the likeliest to lose. That means a greater proportion of conservatives, some of whom are hostile to established GOP leaders, and indicates that Ryan may not be able to afford losing much support.
Ryan succeeded former Speaker John Boehner, who retired last October after it became clear that opposition from conservatives within his party's caucus meant he did not have the votes to retain his job.
Ryan's head could be next for the chopping block.
Do you support, or oppose, Paul Ryan's attack against Donald Trump? Comment below.
The Associated Press contributed to this article
Posted by

Jack
at 2:51 PM
No comments:
Links to this post

By Onan Coca
Ouch. This one hurts, personally. Our circle of right-leaning bloggers is a tight-knit group and we rely on each other for help, both with stories and with spreading the word. That trust was recently violated by one of our own. Former British Conservative MP and co-founder of the conservative website
Heat Street
, Louise Mensch, was revealed by the WikiLeaks hack as a secret supporter of Hillary Clinton.
In an email to Clinton crony Michael Kives (which was then forwarded to Clinton's right-hand man John Podesta), Mensch advises the Clinton team on how to better portray their candidate to the nation.
See video:
http://videos.tout.com/dry/mp4/54e04f9dd1cad149.mp4
— WikiLeaks (@wikileaks) October 12, 2016

When the news broke that Mensch had been trying to help Hillary Clinton, she immediately responded by deflecting blame, and decrying WikiLeaks' airing of the hacked emails.
A criminal offence in U.K. to hack emails and I find myself in the happy position of being able to make a criminal complaint vs

#Assange

🙂

— Louise Mensch (@LouiseMensch) October 12, 2016
Mensch first attempted to argue that Donald Trump was such a horrific candidate that she was happy to assist in defeating him. The problem with this line of defense is that if you read
the timestamp of her original email
, it was sent while the primary was still in question and Donald Trump was not yet the nominee. The original email was sent on February 14
th
when several other options remained as viable candidates for the GOP nomination.
Mensch now works for Evan McMullin, the Republican upstart running as an independent but likely to only appear on a handful of ballots in November. However, even as she works for a republican, she still shouts her support of Hillary Clinton from the highest rooftops… check out the Tweet she just pinned to the top of her newsfeed.
— Louise Mensch (@LouiseMensch) July 29, 2016

Sadly, Mensch and
Heat Street
will likely now go the way of the dinosaur as conservatives wake up to her treason. There is nothing conservative about Hillary Clinton, and even if you think that Donald Trump is a bad candidate (as many conservatives do), it doesn't mean you should throw your support to Hillary Clinton. Hillary Clinton is a demonstrably worse choice for President than Donald Trump, and any conservative who says otherwise has lost their ever-loving mind.
Posted by

Jack
at 2:36 PM
No comments:
Links to this post

By Kyle McDonough
"
Hi, I'm a Muslim-American who enjoys small puppies and California sunsets. Why do you hate me, you racist pig
?"
That may as well be the question we hear every time a Republican is within 10 feet of a microphone. The most recent episode of 'America Is Islamaphobic' came during the second presidential debate between Trump and Clinton.
I have been critical of Trump for many things, policy and behavior alike, but his foreign policy positions against ISIS and radical Islam have been spot on. The idea that the Constitution requires America to surrender our security and liberty to foreign terrorists in the name of tolerance is a flat out lie.
We can and we should end the refugee program from countries that are currently religious war zones. We can and we should acknowledge that, while of course not all Muslims are terrorists, Islam is currently the single greatest inspiration for violence in the world. During the Obama administration radical Islam has grown to a threat level that will require much more than hashtags and French flag backdrops to address.
It will certainly require much more than anything Hillary Clinton and the Democrat party would possibly be willing and able to do.
Predictably, the progressive left's response to our insistence that we confront radical Islamic terrorism is that we're just being Islamaphobic. They claim Islamaphobia – a political term coined to defend jihadists – is on the rise and deterring it should be a top priority of government. In order to be perceived as loving and tolerant Americans, we're to accept this premise with glee and welcome with open arms tens of thousands of refugees with unknown backgrounds from countries that are currently burning Christians alive on a daily basis. And let them vote. And get food stamps. And free healthcare. But mostly vote.
Honestly, I'm tired of arguing against this stupidity because no one stirring the pot is being honest. It just plays right into their hands. The ruling class pushing the 'Islamophobia' narrative doesn't honestly believe their own garbage. It's their way of controlling the narrative when ISIS throws their latest disturbingly creative execution on the internet, making the US look weak and foolish. Look, squirrel! The media wags its tail and chases the ball.
As a simple dad working a job and taking care of my family, I have limited control over this horrendous situation, one that directly and personally affects me and my family.
I will support Trump. I hope and pray he defeats Hillary and we can shift our focus from resisting communism to supporting liberty, security, and conservatism. I'm afraid that many great conservative voices have surrendered their influence by flying the Never Trump flag.
I will continue to make the case against the lying, corrupt Hillary Clinton and Democrat Party. Trump is far from a conservative savior, but I have no doubt his administration will be better for America simply by replacing an ongoing effort to strategically undermine America with a sincere effort to promote it.
I will prepare for what's next, be it either a President Clinton or President Trump. Neither one will be around to protect and defend my family should the need arise.
What the government should do, the ones with a military and billions in spending power, is define our enemy as radical Islamic terrorists who wage jihad and kill every single one as quickly as possible. But they won't do that, and it won't change if we don't rid ourselves of our weak, feckless ruling class. They'll continue their willful blindness, choosing to chastise us while ISIS, Al-Qaida, the Taliban, and the rest of the savage pukes all wage war on anyone who isn't on their side. That includes Muslim-Americans who ask stupid questions about '-
phobias'
that don't matter and largely don't exist.
The question asked at debates by Muslim-Americans ought to be more like "
What is your plan to destroy ISIS so I can practice my faith without fearing execution for failure to submit?
"
We have to get serious, folks.
Posted by

Jack
at 2:25 PM
No comments:
Links to this post


Vladimir Zhirinovsky, a close friend of President Vladimir Putin, has said in an interview that Trump is the only person able to de-escalate dangerous tensions between Moscow and Washington.
By contrast, Trump's Democratic rival Hillary Clinton could spark World War Three, said Zhirinovsky.
Though Putin and Trump have never met, Zhirinovsky said he believed they could establish a close working relationship, adding: "Victory for Trump would be a gift to humanity. But if Hillary Clinton wins it will be the last U.S. president ever."
As all the polls point to a Hillary win this November we must keep a close eye on Russia. Putin's saber rattling might just make sense. Hillary has made her intentions of supporting ISIS in Syria very clear and Putin is drawing his line in the sand.
As we reported yesterday, Putin is angry with the the United States and especially John Kerry as well as the United Nations and especially the French. He has called home all citizens living abroad and canceled a meeting with the French Prime Minister. Let's look back at his relationship with the USA.
"[Russia is] interested in keeping Assad in power. So I, when I was secretary of state, advocated and I advocate today a no-fly zone and safe zones. We need some leverage with the Russians, because they are not going to come to the negotiating table for a diplomatic resolution, unless there is some leverage over them."
That was Hillary Clinton in the second presidential debate on Oct. 9
saying flat out that as President of the United States, she would impose a U.S.-enforced no-fly zone in Syria to keep Russia from bombing targets there.
That, even though
the U.S. Marine Gen. James Dunford, chairman of the joint chiefs of staff, just testified to the Senate Armed Services Committee on Sept. 22 that
"for us to control all of the airspace in Syria would require us to go to war against Syria and Russia."
And, even though on Oct. 6 the Kremlin had already warned it would shoot down U.S. war planes in Syria.
Major General Igor Konashenkov issued a statement, saying
, "Today, the Syrian army has effective S-200, Buk and other air defense systems, which have undergone technical renovation in the past year. I remind U.S. strategists that air cover for the Russian military bases in Tartus and Hmeymim includes S-400 and S-300 anti-aircraft missile systems, the range of which may come as a surprise to any unidentified flying objects."
Now, we're not any big fans of Russia per se, but is Clinton out of her ever-loving mind? Wouldn't enforcing a no-fly zone in Syria be a pretty risky proposition under these circumstances if it increases the chances of a direct exchange of hostilities between the U.S. and Russia?
It is an act of war. Even though there is no authorization to use force in Syria. But maybe that doesn't matter to Clinton, who, if she means what she says, would necessarily mean U.S. and Russian fighter jets in the same exact air space, with the U.S. Air Force having active orders to escort Russian Migs out of the zone or else shoot them down.
So, then let's assume Russia runs the no-fly zone. After all, they were there first. Then what? Clinton would have to make a split-second decision about whether to enforce yet another "red line" in Syria. If she did decide to enforce it — in order to salvage the credible threat of U.S. force in the region — we'd be at war with Russia. Just like that.
We have to assume she'd enforce it. She's been pushing for a no-fly zone in Syria since she was Secretary of State, and since before Russia had a sizeable presence in the country. Now, despite how the situation on the ground has radically changed, and with Russia clearly involved, she is still pushing.
Both the top spokesmen in both the U.S. and Russian militaries have warned explicitly that such actions would mean war, and yet Clinton —
along with other hawks in the Senate like Sens. John McCain (R-Ariz.) and Lindsey Graham (R-S.C.)
— are arrogantly pushing forward.
Get off it, already.
It's one thing to have taken on Soviet satellites during the Cold War, ala North Korea or then-North Vietnam, but a fairly standard staple of Cold War doctrine did not usually include attacking satellites that had active Russian forces on the ground. That's why it was called the Cold War.
Even President John Kennedy ruled out a military strike in Cuba to resolve the Cuban Missile Crisis in Oct. 1962 out of similar concerns. It was tantamount to nuclear holocaust then, and that remains true today. Both countries remain armed to the teeth with enough nuclear weapons to wipe out the other.
In the meantime, U.S. talks with Russia on Syria have ground to a halt and a U.S.-brokered "ceasefire" was broken almost instantly. The Obama administration is out there every day of the week accusing Russia of tampering with U.S. elections. The State Department is alleging war crimes by Russia and Syria at the city of Aleppo. And Russia just pulled out of a nuclear agreement with the U.S.
Maybe we really are on the brink this time.
All to defend the strategically super-important… city of Aleppo? Under Clinton we would risk crashing into the Russian air force — and risking a much wider, deadly war — to protect what remains of the ineffective rebels against the Bashar al Assad regime? What for? They've already lost the war. And even if they haven't it is insanity when Russia has already indicated it will defend Syria.
When she was Secretary of State, Clinton had heralded a "Russian reset," that is, a renewal of closer ties with Russia. Now look at how her policy has played out. By that, apparently she meant to put U.S. forces into extraordinarily risky adventures by threatening war with Russian satellite states like Syria and Ukraine.
We're closer to war with Russia now than at any time since the Cuban Missile Crisis.
We're on the brink of Armageddon with this hare-brained Clinton policy.
German foreign minister Frank-Walter Steinmeier warned last week that
"it's a fallacy to think that this is like the Cold War. The current times are different and more dangerous." More dangerous than 1962? Whoa, boy.
Former Soviet Prime Minister Mikhail Gorbachev warned on Russian television
, "I think the world has reached a dangerous point," referring to the conflict in Syria. Yikes. He almost never speaks up.
You'd have to be a lunatic to support this policy. Stark raving mad. Clinton is looking for leverage and wants to prove how tough she is in the debates. So, sure, just throw up a no-fly zone in the middle of a Russian satellite's airspace — that their forces are currently patrolling — what could go wrong?
In the meantime, perhaps everyone else should be looking at unearthing their 1950s era fallout shelters.
With its aging fleet and nuclear deterrent, is the U.S. even prepared for war with Russia?
If Hillary Clinton is elected president, we may be about to find out. Count me out.
Robert Romano is the senior editor of Americans for Limited Government.
Posted by

Jack
at 2:06 PM
No comments:
Links to this post

via:Newsmax
FBI Director James Comey's recommendation that former Secretary of State Hillary Clinton not be prosecuted for using a private email server did not sit well with lower ranking members of the agency or at the Justice Department,
Fox News reports an anonymous source involved in the case said.
"No trial level attorney agreed, no agent working the case agreed, with the decision not to prosecute — it was a top-down decision," the source, identified as a senior FBI official, told FoxNews.com.
Comey's decision was not an unanimous decision, the source said, adding, "It was unanimous that we all wanted her [Clinton's] security clearance yanked."
"It is well known that the FBI agents on the ground, the human beings who did the investigative work, had built an extremely strong case against Hillary Clinton and were furious when the case did not move forward," Fox News judicial analyst Andrew Napolitano said. "They believe the decision not to prosecute came from The White House."
Comey on July 5 announced his agency would not recommend prosecution, though his description of Clinton's actions led critics to believe he should have. Comey testified to Congress that the governing statute requires intent, and that his investigation was unable to prove intent.
"Basically, James Comey hijacked the DOJ's role by saying 'no reasonable prosecutor would bring this case,'" the FBI source said. "The FBI does not decide who to prosecute and when, that is the sole province of a prosecutor – that never happens."
Related Stories:
Posted by

Jack
at 5:55 AM
No comments:
Links to this post

by
Charlie Nash
Unauthorized users appear to have accessed Hillary Clinton Campaign Chairman John Podesta's various accounts after an email containing his Apple ID and password was found within the recent WikiLeaks email release.
One user is alleged to have remotely erased Podesta's iPhone after accessing his Apple account, which contained Podesta's phone number, address, and various email accounts/
sent from and to Podesta
, and the leaked emails have since revealed the Clinton Campaign's
coziness to mainstream media reporters
,
distaste for Catholics
,
disregard for shootings that could not further their gun control agenda
, and
Podesta's very own obsession with extraterrestrials
.
The leaked emails
also revealed that Rupert Murdoch's Heat Street editor, Louise Mensch, had written an advert for Hillary Clinton
that sought to capitalize on her gender, despite Mensch claiming to be an anti-SJW Republican.
"As you will know from Arnold I am a committed Republican (or would be if I had the vote this year). But I worry no end about Donald Trump becoming our President," wrote Mensch in an email that was forwarded to Podesta. "Much rather have your girl Hillary."
Posted by

Jack
at 5:34 AM
No comments:
Links to this post