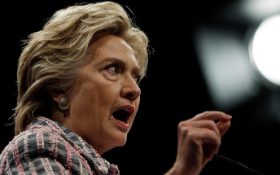 According to her critics, Democratic presidential candidate Hillary Clinton's past is a series of smokey backroom deals, shady foreign donors, and corrupt backscratching.
This may be the most outrageous example yet.
In an email to her campaign chairman John Podesta in 2014, Clinton confesses to knowing that Saudi Arabia and Qatar's governments were giving both financial and logistic support to Islamic terror groups, including ISIS. That's according to a recent WikiLeaks release, which published years of Podesta's emails this week.
At the same time, Clinton's controversial foundation was accepting millions in donations from those same governments. "Qatar has given between $1 million and $5 million to the Clinton Foundation and Saudi Arabia has donated upwards of $25 million dollars to the Foundation,"
The Daily Caller
reports.
In their 2014 exchange, Clinton admits to Podesta — then-aide to President Barack Obama — that, "While this military/para-military operation is moving forward, we need to use our diplomatic and more traditional intelligence assets to bring pressure on the governments of Qatar and Saudi Arabia, which are providing clandestine financial and logistic support to ISIL and other radical Sunni groups in the region," using another acronym for ISIS.