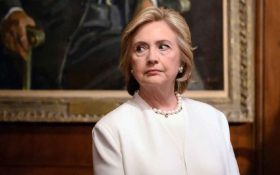 via:HornNews
WikiLeaks founder and self-styled citizen journalist Julian Assange is a controversial figure. Vice President Joe Biden once called him a terrorist, while others have praised his efforts for international transparency.
How does Democratic candidate Hillary Clinton feel about the infamous whistle blower?
Apparently she had no moral qualms about murdering him in cold blood — and even tried to get others on board.
In 2010, Clinton tried to order Assange's assassination by drone strike, according to a story that was first published by True Pundit and was subsequently distributed by WikiLeaks itself.
Senior government officials reportedly laughed off the suggestion at first, feeling that Clinton couldn't possibly be serious about murdering a private citizen (and a famous one at that). But they soon learned she wasn't joking at all, as Clinton allegedly continued to push for the assassination.