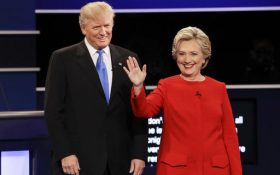 The first clash between Republican presidential candidate Donald Trump and rival Hillary Clinton on September 26th was a virtual tie. Meanwhile, Monday's vice presidential showdown saw Indiana Gov. Mike Pence, Trump's running mate, wipe the floor with former Virginia Gov. Tim Kaine, Clinton's running mate.
Sunday's Town Hall presidential debate comes with less than 30 days left until votes are finally tallied, meaning Trump and Clinton's second showdown is the most important moment yet in the 2016 presidential campaign.
And the stakes have been raised with the revent release of decade-old audio in which Trump made crass comments about women. That audio has caused some GOP establishment members to withdraw support for Trump.
What will happen on Sunday, when Trump stares down Clinton?
It's anyone's guess, but the format guarantees it will be a game changer.
Past town hall debates have had very memorable moments. President George H.W. Bush conspicuously checked his watch. Al Gore got too close for comfort. Mitt Romney strode across stage to confront President Barack Obama face to face.
For presidential candidates, a town hall debate is a test of stagecraft as much as substance. When Hillary Clinton and Donald Trump meet Sunday night in St. Louis, they'll be fielding questions from undecided voters seated nearby. In an added dose of unpredictability, the format allows the candidates to move around the stage, putting them in unusually close proximity.
"There's a lot more interaction, physical interaction," says Judd Gregg, the former New Hampshire senator who helped President George W. Bush prepare for debates. He said a candidate who is too aggressive in a town hall, either with the voters or a rival, "can come across looking really chippy, not looking presidential."
Trump's candidacy may rise or fall on his ability to avoid falling into that trap, and his ability to quickly move past the issue of the revently released audio recordings.
Presidential town hall debates are typically serious affairs and lack the liveliness of campaign trail events.
The first town hall debate was held during the 1992 election and featured incumbent President George H.W. Bush and challenger Bill Clinton, along with third-party candidate Ross Perot. As a voter stood to ask Bush about the national debt, the president glanced down at his watch — a fleeting moment but one that seemed to reinforce criticism that he didn't have empathy for Americans.
The wild card in the town hall debate is the physical choreography on stage. Candidates are seated but with no lectern or table to hide behind. They're given hand-held microphones and are free to roam the stage to answer questions or challenge each other.
Four years ago, Obama and Romney circled each other on stage throughout the night. During one particularly heated exchange, Romney kept moving toward the standing president until they were arguing with just a few feet between them.
During the 2000 election, George W. Bush was answering a question on leadership when Vice President Gore stood up from his chair and walked unnaturally close to his Republican rival. Bush turned to Gore, and with a slightly puzzled look on his face, gave him a nod and smile. The audience broke into laughter.
That seemingly natural Bush reaction? It was well-rehearsed, according to Gregg, who played the role of Gore in Bush's debate prep. Gregg said he'd expected Gore would try to intimidate the Texas governor, so he practiced walking close to him during their mock debates.
"His reaction was the exact same with Al Gore as it was with me — to look at me with a bemused smile and move on to his answer," Gregg said. "We practiced."
Who will win Sunday's debate? Comment with your opinion below!
The Associated Press contributed to this article