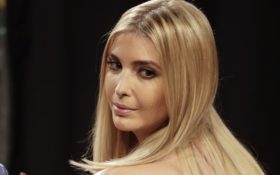 Ivanka Trump is being harshly criticized by the mainstream media for a Memorial Day tweet that critics claim wasn't patriotic enough, ignoring shameless self-promotion from liberal celebrities on the day meant to honor our deceased veterans.
And these liberal reporters failed to do their research, because they are dead wrong about Ivanka's tweet.
The tweet under fire came from Ivanka's brand page, not her personal Twitter account, which posted a heart-filled tribute to our troops.
Bible Mystery: can anyone explain these 3 strange words?
(sponsored)
In a typical marketing move for any business, the tweet facing criticism links to her site, complete with suggestions on how to spend the holiday weekend.
— Ivanka Trump HQ (@IvankaTrumpHQ) May 28, 2017
Her personal account, on the other hand, displayed kind words for veterans who gave their lives for our citizens:
Sponsored:
Trump vs Crooked Hillary round 2?
Today we honor the men & women in our armed forces who have lost their lives to protect our freedom. Thank you for your service

#MemorialDay

— Ivanka Trump (@IvankaTrump) May 29, 2017
CNN
,
Harper's Bazaar
, and
Glamour
, are just a few of the sites that reported on her "insensitive" tweet, but failed to recognize other national public figures that did the same exact thing"
Sponsored:
Simple bathroom habit deadlier than cigarettes
Pop star and huge Hillary Clinton supporter Katy Perry used the holiday to promote her brand, tweeting about her line of shoes.
— Katy Perry Shoes (@kpcollections) May 29, 2017
But not surprisingly, there is no outrage from the left. While liberal celebs get a free pass by the "tolerant" left, Ivanka Trump gets destroyed for a tweet about popsicles.
-The Horn editorial team