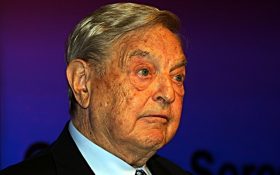 oped: President Trump really needs to take the proverbial gloves off as well as his AG Sessions...George Soros, Barack Obama, Bill and Hillary Clinton et al need to be prosecuted under 18 USC 2384-85 Seditious Conspiracy as well as the RICO Statues...Know ands ifs or buts about it...anything less is a waste of time and effort with zip zero results!
Newly released records show that George Soros plans to turn a huge profit by bringing America down.
His stock portfolio reveals that Soros stands to make a fortune if the U.S. economy tanks — and he's figured out the easiest way to do that would be to have President Donald Trump impeached and removed from office by the end of the year.
Sponsored:
God issues 3 "warning signs" (revealed inside)
The shadowy, leftist billionaire hates all-things Trump, but having him impeached isn't just personal anymore; it's business, too.
According to public filings, Soros Fund Management LLC invested $764.3 million betting against the two greatest measures of U.S. business strength this year.
The S&P 500 measures the value of larger U.S. businesses, and the Russell 2000 measures smaller, publicly traded U.S. businesses.
Sponsored:
The Secret Meaning Behind Hillary's Hand Gesture
Soros took a huge loss guessing that both of them would fall in 2017. But the S&P has increased 5.7 percent this year, and the Russell is up, too.
Soros, who made $1 billion by breaking the Bank of England in 1992, set his sights on the U.S. Treasury before the presidential election.
Last June, Soros sold more than a third of all his American stocks and began investing heavily in gold. Gold prices soar during times of economic crisis. They hit an all-time high of $1,900 an ounce under President Barack Obama in August 2011.
Unfortunately for Soros, former Secretary of State Hillary Clinton lost the election and wasn't able to continue Obama's weak financial policies.
Sponsored
:
Is THIS why Obama moved 2.1 miles from the White House?
Instead, the economy has been roaring since Donald Trump was elected president on a promise to cut taxes and make America great again. The Dow hit an all-time high on March 1, closing at more than 21,000. The S&P broke its record for highest level
15 times
by February. And last Tuesday, the Nasdaq hit its 33
rd
record high of the year.
American greatness is bad news for George Soros, who had lost nearly $1 billion by January.
Then suddenly, last week Democrats started talking about impeaching Trump, and stocks fell – and fell hard.
Last Tuesday, word leaked that Trump fired James Comey as FBI director after Comey refused to quit investigating Trump's alleged ties to Russia.
Sponsored:
BEWARE! What's Hillary been up to since the election?
In a May 16 interview with the left-wing website ThinkProgress, Texas Rep. Al Green, a Democrat, warned President Trump will continue to act "with impunity, unless he's impeached" for obstruction of justice.
ThinkProgress is the "news" website of the Center for American Progress, founded by John Podesta — Hillary's campaign manager.
And both organizations are heavily funded by George Soros.
The threat of impeachment sent the stock market into a nosedive. The very next day, the S&P 500 had its worst day since last September, before Trump's election. The Russell 2000 fell by 2.5 percent. And the Dow Jones closed down 370 points.
Sponsored
:
Christian Americans beware…
"This is clearly Washington-driven," Michael Shaoul, the CEO of Marketfield Asset Management, told CNBC.
Investors want Trump to carry through on his promise to get America working again. Impeachment would scuttle his economic agenda and paralyze the country.
"An impeachment proceeding would blow the market away," said Jack Welch, the former CEO of General Electric.
History bears that out. Stocks fell throughout the Watergate scandal. The S&P 500 was in a freefall for months after Richard Nixon's resignation, finally bottoming out on October 3, 1974.
Democrats have plenty of reasons to want Trump impeached, and even more to follow George Soros' orders – 24 million reasons, actually.
Washington Democrats are beholden to the Soros family. George Soros donated more than $19 million to Democratic campaigns and PACs in 2016, while his son Alexander gave $4.5 million. Impeachment serves their political interests and pads his bottom line.
Sponsored:
Is America still a Christian nation?
Soros thought he would make a windfall by putting Hillary Clinton into office and watching America's economy go down the drain.
Now, he wants revenge – financing politicians who demand Trump's impeachment, the fake news outlets that keep the imaginary Russia "scandal" ginned up, and the left-wing community organizers who make it look like impeachment has any popular support among the American people.
The last few months show that what's good for George Soros is bad for America.
— The Horn editorial team