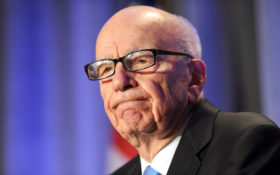 Following a series of sex scandals and removal of hit host Bill O'Reilly, a swath of loyal viewers announced they would boycott Fox News.
And now the effects are clear in their ratings – it's destroying them.
Reports revealed that the Murdoch family, who own the station, had a desire to make major changes. Opting to move away from the traditional Fox values that earned the station it's original success, the Murdoch's are now panicking that their makeover was a horrible idea.
Following O'Reilly's ouster, many fans announced their plan to get their news elsewhere, a threat the Murdoch's didn't take seriously.
But now that the latest ratings out in, the media giants should be shaking.
Once having a secure spot at the top of the ranking board, Fox News' has recently dropped, specifically in the prime time slot, or "demo" where O'Reilly once hosted,
The Blaze
reported
.
For the past week, Fox News has been out-ranked by MSNBC in an unusual turn of events, CNN Money
reported
.
Sponsored:
Is Obama undermining Trump? (proof inside)
And while Fox still remains number one in total viewers, the coveted prime time slot is quickly slipping from their trophy shelf.
MSNBC's Rachel Maddow's ratings are quickly creeping up on Fox News', with her show ranking as the top-rated cable news show overall last Tuesday.
And O'Reilly recognizes the obvious fall from success.
Since his departure from Fox, O'Reilly joined Glenn Beck on "The Glenn Beck Program" and said there's "no doubt" that "Fox News has a problem."
Sponsored
:
Christian Americans beware…
"They didn't have to make those decisions, and they really didn't have a plan," O'Reilly said about his previous employer. "You know when you take a guy like me out of the lineup, and I'm doing 5,6 million views a night, you better have a plan to replace that."
So far Tucker Carlson isn't successful in filling O'Reilly's shoes, and unless the Murdoch's can come up with a replacement plan quickly, Rachel Maddow may take the coveted top prime time viewership.
-The Horn editorial team