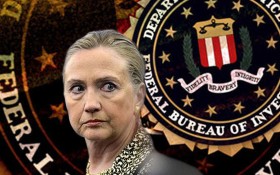 For decades, former Secretary of State Hillary Clinton has managed to get off scot-free with a crime spree that would send any other politician to prison for a long, long time. But new evidence proves she is guilty of one of the most serious crimes imaginable — and one legal expert says it's time she face the music for it.
One of the nation's most distinguished judges is calling for Hillary to be prosecuted for espionage against her country based on new email evidence.
On Jan. 8th, the FBI quietly posted hundreds of Clinton's emails online — all of which had been intercepted by foreign governments, including China. And the reason their spies were able to poach U.S. secrets should make Americans' blood boil.
Hostile foreign nations have the most classified American intelligence, because – as secretary of state – Hillary Clinton sent classified documents to one of her sleazy political operatives.
The messages posted last week prove she's guilty of a felony, according to Judge Andrew Napolitano.
"Last Sunday evening, during the NFL playoff game between the New York Giants and the Green Bay Packers, the FBI posted on its website more than 300 emails that Mrs. Clinton had sent to an unnamed colleague not in the government — no doubt her adviser Sid Blumenthal — that had fallen into the hands of foreign powers," Judge Napolitano wrote in
The Washington Times
.
Blumenthal is an old Clinton hand who earned his nickname, "Sid Vicious," by smearing Bill and Hillary's foes for more than 20 years. Not only did Sid
get
$10,000
a month
from the Clinton Foundation, but Hillary sent him sensitive information he had no business seeing.
Even the FBI's timing in posting them online, like everything else with the Clinton family crime syndicate, was fishy and apparently intended to hide the Clintons' wrongdoing again.
And no wonder. Just look at the bombshell they were hiding.
"It turns out — and the Sunday night release proves this — that Mr. Blumenthal was hacked by intelligence agents from at least three foreign governments and that they obtained the emails Mrs. Clinton had sent to him that contained state secrets," Judge Napolitano wrote.
The nations that hacked Blumenthal include America's strongest rival — China — as well as Russia and Israel.
The new leak confirms allegations that Hillary acted with reckless disregard for national security and needs to pay the price.
It's not exactly news that Crooked Hillary played loose with American secrets – and may have put American lives in danger – in order to hide private e-mails from the public.
As far back as July 2015, a memo approved by the FBI's counterintelligence division said that "a federal crime or a threat to national security has or may have occurred" on Clinton's private e-mail server, and the leak "allegedly contains information at a classified & SCI level."
SCI – or sensitive compartmented information – is sometimes called "above top secret." That's what Clinton was sending from her homebrew email server to her political hatchet man.
Now, prosecutors may have the evidence they need to cut her down to size.
Judge Napolitano has pointed out that prosecutors don't have to prove the person deliberately risked national security in order to convict her – only that she actually did allow classified information to fall into the wrong hands. There's no doubt about that.
The punishment for espionage is
10 years in prison
.
But somehow, FBI Director James Comey let her skate – even though he said last summer that she had been "extremely careless" with "very sensitive, highly classified information," and "any reasonable person in Secretary Clinton's position, or in the position of those government employees with whom she was corresponding about these matters, should have known" better.
Donald Trump seemed to back off his promise to prosecute her, apparently in exchange for her agreeing to fade off quietly into oblivion. Instead, she has encouraged the country to question Trump's legitimacy as president, blaming her loss on Russian hackers and "fake news," and backing Green Party presidential candidate Jill Stein's recount efforts.
She's poking a sleeping bear. And the president-elect is no one to trifle with.
After President-elect Trump is inaugurated this Friday and his nominees are safely confirmed, the Justice Department must investigate and, if warranted, prosecute and jail any member of the Clinton family who sent "above top secret" information from an unsecured server to a campaign official.
Throwing this dragon lady into jail is the best way to start draining the swamp.
— The Horn editorial team