oped: Good Lord how large does the proverbial body bag count need to be 50k? before the DOJ and FBI get off their collective asses and convene a Grand Jury...indict, arrest and prosecute The Clinton's, The Obama's, and the entire Progressive DNC under 18 USC 2384-85 (Seditious Conspiracy) as well as the RICO statues
Laced with murder, pedophilia, corruption, money laundering, fraud, lying, cheating and stealing!
MSM needs to get off the fantasy Russian/Collusion nonsense and address the real problems in the Swamp/Sewer known as DC!
See: http://sharlaslabyrinth.blogspot.com/2013/05/hillary-clinton-for-potus-2016-hell.html
More The Clinton Files: http://sharlaslabyrinth.blogspot.com/search?q=the+clinton+files
Hey FBI DOJ...can we get a win?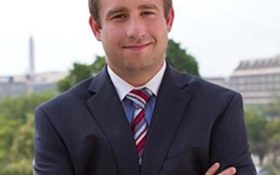 by:
Stephen Dietrich
Who killed DNC staffer Seth Rich?
According to the former D.C. homicide detective hired by Rich's family to investigate the murder, the answer is sinister.
The killing may be connected to Rich's involvement with WikiLeaks and last summer's DNC email leaks, which seriously damaged former Secretary of State Hillary Clinton's presidential campaign.
Sponsored:
Hillary's Anti-American Hand Gesture Caught on Tape
Political experts say the revealing emails helped sabotage Hillary Clinton's chance at the White House.
Multiple sources say Rich was behind these thousands of leaked DNC emails, which helped expose that top Democratic party officials were conspiring to stop Clinton's rival, Vermont Sen. Bernie Sanders, from winning the party nomination.
The family's private detective believes Rich may have been murdered for his role in these leaks.
Sponsored:
Is Obama undermining Trump? (proof inside)
On July 10th, 2016, grainy security video reportedly shows two men walk up behind Rich just feet from his Washington, D.C. home and shoot him twice in the back.
On July 22
nd
, WikiLeaks founder Julian Assange released thousands of emails containing evidence that Hillary Clinton and DNC insiders had sabotaged Sanders' chance at the Democratic party's presidential nomination.
Police in Washington, D.C. have called Rich's death a botched robbery attempt – but critics have long questioned the theory.
Sponsored:
BEWARE! What's Hillary been up to since the election?
Indeed, the killers reportedly did not take Rich's wallet, watch, necklace, keys, or cell phone after shooting him.
As local station Fox 5 put it bluntly: "There is no evidence to suggest that" Rich's slaying was a robbery gone wrong.
Former D.C. homicide detective Rod Wheeler, whose private detective firm is investigating the killing, says that either the Democratic National Committee or the Clinton family are stalling the investigation.
"My investigation shows someone within the D.C. government, Democratic National Committee, or Clinton team is blocking the murder investigation from going forward," Wheeler told
Fox News Channel
. "That is unfortunate. Seth Rich's murder is unsolved as a result of that."
"I have a source inside the police department that has looked at me straight in the eye and said, 'Rod, we were told to stand down on this case and I can't share any information with you.' Now, that is highly unusual for a murder investigation, especially from a police department," Wheeler explained to local station Fox 5,
which first broke the story
.
D.C. police have refused to release the video of the killing to the public, which insiders note is also highly unusual.
A spokesman for the D.C. police department has denied that detectives were ordered to stand down in the investigation.
Other sources, however, have confirmed many of Wheeler's suspicions.
"A federal investigator who reviewed an FBI forensic report detailing the contents of DNC staffer Seth Rich's computer generated within 96 hours after his murder, said Rich made contact with WikiLeaks through Gavin MacFadyen," Fox News reported Tuesday.
MacFadyen, an American investigative reporter and mentor to Assange, passed away last year as well. Officials say the 76-year-old died of lung cancer in London last October.
"I have seen and read the emails between Seth Rich and Wikileaks," an unnamed federal investigator told Fox News Channel. According to the source, in May of 2016 Rich handed over 44,000 emails and nearly 18,000 attachments to MacFadyen.
The emails, which were between DNC leaders during the Democratic presidential primary, were later released by WikiLeaks.
Sponsored:
IMPEACHED! Hillary's shocking plan to "overthrow" Trump
Besides the details of a shadowy conspiracy to rig the Democratic primary in favor of Hillary Clinton that were discovered, inside these emails also sits a chilling reminder of the high-stakes of Washington, D.C. politics.
"I'm definitely for making an example of a suspected leaker whether or not we have any real basis for it," former Clinton campaign manager John Podesta
wrote in one of the email released by WikiLeaks
during the campaign.
The leaks cost the Clinton campaign dearly – and there's growing suspicion that Rich may have been the one that paid the price.
Source:
https://thehornnews.com