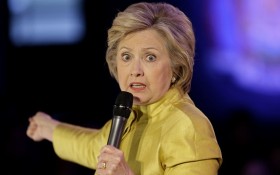 oped: First and foremost Donald Trump made many promises while campaigning ..he engaged the electorate and strongly stated he was not the establishment and would correct

all

the wrongs committed by the establishment on both sides of the aisle ie:

"Drain the Swamp"

For him to know say "I am the President" and have to start work on the economy ...which is all good ..however he was elected because of

all

the promises he made...

to brush them aside now that he has grasped the golden ring of office just makes him also part of the establishment and his credibility will suffer from such!
Once only a popular rallying cry, "lock her up" could take on a very real meaning now that President Elect Donald Trump is heading to the Oval Office.
During the third and final Presidential debate, Donald Trump told Democratic nominee Hilary Clinton that if he became President, he would, "instruct my attorney general to get a special prosecutor into your situation."
Throughout his campaign, Trump questioned the legitimacy of the FBI's investigation into Clinton's illegal use of a private email server. He referred to her email scandal as, "bigger than Watergate," and argued that she was, "protected by a rigged system."
Now he has won the presidency, and Clinton is shaking in her pantsuit that she is heading to jail.
When FBI Director James Comey did not recommend charges for the
second
time, Trump said, "Unbelievable what she gets away with."
While the process of putting Clinton behind bars would be a long one, Trump could very well restart the investigation, and potentially land her in jail.
Should he follow through with his threat to appoint a special prosecutor to investigate Clinton, the inquiry would have to reveal that she did in fact violate criminal law. From that point, she would have the right to a fair trial in which the prosecutor would have to argue against the original evidence that led the FBI to not recommend charges.
While it's anything from impossible, there is plenty of speculation he would actually follow through with the prosecution.
Trump praised Clinton during his victory speech, saying she was owed, "a major debt of gratitude for her service to our country."
However, some Republicans have called for Trump to pardon Clinton as an act of unity, a gracious act that could help heal the post-election divide.
Some political analysts believe Trump doesn't actually want to prosecute her. "Whatever you think of Donald Trump, I don't believe he really thinks he would put Hillary Clinton in jail. The President has no authority to jail people, and people in her position don't normally get sent to jail for first offenses," conservative lobbyist Curt Levey told
The Guardian.
While he couldn't personally put Clinton in jail, we can think of one potential Attorney General who would love to have that honor.
The Horn News
predicted
Rudy Giuliani could potentially be appointed as Trump's Attorney General.
"The crime was pretty bad, exposing national security information to countries we know can take it from us… and for that, you shouldn't be allowed to get off," he told
Fox News.
In August, he spoke to
Fox News
about the Clinton Foundation, saying, "If I was attorney general, I would indict the Clinton Foundation as a racketeering enterprise."
While the mainstream media doesn't believe Trump would truly "lock her up," this election has taught us that they can never be trusted.
— The Horn editorial team