Who really knows for sure...we have been going through so many 'Wag the Fog' scenarios that anything is a possibility...dunno!
by
Kurt Nimmo
According to "shadow CIA" Stratfor email hacked by Anonymous and released by Wikileaks, Osama bin Laden was not dumped at sea after he was supposedly killed at his hideout in Pakistan. Instead, his body was shipped via a CIA plane to a mortuary located at a military medical institute in Dover, Delaware.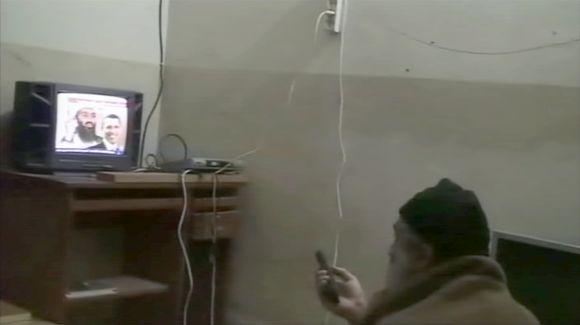 Video capture of Osama bin Laden watching himself on television at the Abbottabad compound.
Osama's body was allegedly delivered following Obama's boasting about the dubious raid. "Reportedly, we took the body with us. Thank goodness," said Stratfor CEO
George Friedman
in an email dated May 2, 2011.
"Than [sic] onward to the Armed Forces Institute of Pathology in Bethesda," replied Stratfor vice president for intelligence, Fred Burton, who also said he "doubts [Osama] was dumped at sea" and adds the body "is a crime scene and I don't see the FBI nor DOJ letting that happen." Before working at Stratfor, Burton was a
special agent
with the State Department's Diplomatic Security Service.
Despite concerns about preserving the "crime scene," Pakistani authorities demolished the alleged hideout in late February. They never allowed journalists inside the Abbottabad building, and starting from a few days after the purported raid stopped them from even getting close to it, according to a February 27
Associated Press
report.
A number of people, including former Pakistani dictator
Pervez Musharraf
, have claimed that Osama bin Laden died in late 2001 at Tora Bora in Afghanistan. Afghan President
Hamid Karzai
also said he thought Bin Laden was dead, as did
Dale Watson
, the FBI's counterterrorism boss.
It was reported in December of 2001 that Osama bin Laden "died a peaceful death due to an untreated lung complication" and "was laid to rest honorably in his last abode and his grave was made as per his Wahabi belief,"
Fox News
reported, citing the Pakistan Observer.
In 2011,
Dr. Steve R. Pieczenik
, a man who held numerous different influential positions under three different presidents and worked with the Defense Department, told The Alex Jones Show that Osama Bin Laden died in 2001.
Pieczenik fist made the claim in 2002. "I found out through my sources that he had had kidney disease," he told Alex Jones on April 24, 2002, several months after it was reported that Osama had died. " And as a physician, I knew that he had to have two dialysis machines and he was dying. And you could see those in those films, those made-up photos that they were sending us out of nowhere. I mean, suddenly, we would see a video of bin Laden today and then out of nowhere, they said oh it was sent to us anonymously, meaning that someone in the government, our government, was trying to keep up the morale on our side and say oh we still have to chase this guy when, in fact, he's been dead for months."