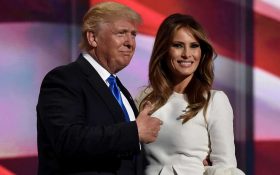 Melania Trump has been relatively quiet throughout her husband's presidential campaign, but after the media started circulating insane, nasty rumors about her past, she went on a counter-attack that stunned her critics — and forced many of them to apologize.
It all started with a
Daily Mail
article
, published August 19
th
, titled, "Naked photoshoots, and troubling questions about visas that won't go away: The VERY racy past of Donald Trump's Slovenian wife."
Ugly. And it gets worse.
The attack piece declares that while working as a model in New York City, Meliana was actually working as a prostitute.
Yes, you read that correctly. They are claiming that the potential First Lady was a lady of the night when she first arrived in America.
Could you imagine an article like released about a Democrats wife?
There'd be riots in the street.
The Mail
quotes an article from a Slovenian magazine, Suzy, which first made the allegation that the New York modelling agency run by Paolo Zampolli operated as an escort service. The Mail went as far as following up with the article's author, who stood by his story and claimed everything is factual.
The journalist behind the Mail article, Natalie Clark, also contacted Zampolli for a comment, who immediately dismissed the claims as rediculious. "My agency was never an escort agency… come on."
In addition to the prostitution claims, the article also defames her by claiming she was in America on a tourist visa instead of a work visa, and therefore working illegally. It continues to suggest that Melania and her husband, Presidential candidate Donald Trump, are lying about their first meeting.
Now, Melania is fighting back.
Her lawyer, Charles Harder, has sent threats of defamation lawsuits to
The Daily Mail
, Politico, The Week, Inquisitr, Tarpley, Before It's News, Liberal America, Law Newz, Winning Democrats and Bipartisan Report, for circulating the hack piece.
Harder criticized the article in an email, saying, "All such statements are 100% false, highly damaging to her reputation, and personally hurtful. She understands that news media have certain leeway in a presidential campaign, but outright lying about her in this way exceeds all bounds of appropriate news reporting and human decency."
The notices sent by Harder serve as a threat of a lawsuit if the articles in question aren't corrected or redacted.
Both Inquisitr and Bipartisan Report published retractions and quickly apologized to Mrs. Trump.
Trump's lawyer Harder has success in previous defamation cases, most recently in representing Hulk Hogan in his defamation suit against Gawker Media. The suit ended with Hogan being awarded $115 million in damages, more than the $100 million he had asked for.
The Gawker founder filed for bankruptcy as a result, and the website closed its doors for good Monday night.
His previous successes should have his next victims horrified about threatening his newest client — the potential First Lady of the United States.
— The Horn editorial team