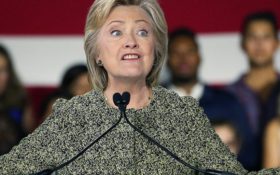 What's next for failed Democratic presidential candidate Hillary Clinton?
Months after her stunning loss to President-elect Donald Trump, insiders say Hillary still hasn't gotten over the defeat.
Now, they say she's eyeing a unique and atypical revenge plan — becoming the next mayor of New York City.
The story was first leaked to insiders to Newsmax, which reported Thursday that, "Barely two months after Hillary Clinton lost the presidency to Donald Trump, she is being urged by major Democratic donors and leaders to make a bid for New York City's mayor and challenge incumbent Bill de Blasio."
The position would put her squarely in Trump's backyard — in control of the city where most of Trump's business interests are located, and in charge of the police department where the president-elect plans to spend his time off during his first term.
The insider leak comes six months before the city's Democratic primary. de Blasio, whose short mayoral term has been plagued with a half-dozen federal investigations over donor kickback schemes, has reportedly lost favor with big time Democratic donors in New York City — and some critics are speculating it is because of de Blasio's inability to payback what was promised.
Clinton and de Blasio were previously close, but multiple sources have reported that the Clintons grew resentful of the mayor's reluctance to support Hillary over Vermont Sen. Bernie Sanders early in the 2016 Democratic presidential primary.
So why would Hillary consider such a strange revenge move, which would be a political step backwards for the former secretary of state?
Speculation runs rampant.
Newsmax reports that, "supporters say Mrs. Clinton could delegate local governance to a strong team of deputy mayors as she used the stage New York affords to become a national leader for Democratic issues and values – while relishing her new role in Trump's own backyard."
The move could also be used to calm Clintons reportedly unhappy donor network for daughter Cheslea Clinton, which
The New York Post
reported in November is being groomed for a Senate run in New York state.
The Horn News
revealed in December that
many of the Clinton family's billionaire backers
are furious the money they'd invested in Hillary's two failed presidential campaigns returned nothing.
If these big Democrat donors are also upset with de Blasio… perhaps New York City Mayor Hillary Clinton would use her first term to smooth things over for Chelsea's sake?
It's a little far-fetched — but sometimes, truth is stranger than fiction.
— The Horn editorial team