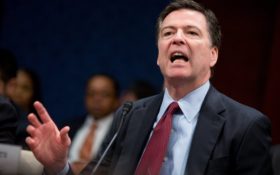 With a FBI indictment looming, a new email has revealed just how long Democratic presidential candidate Hillary Clinton and her team feared FBI Director James Comey's investigators — years.
A senior aide to Clinton privately complained that Comey was "a bad choice" for them in October 2015, according to a new release from WikiLeaks. The blunt assessment foreshadowed the dramatic tension that has escalated between Comey and the Democratic presidential candidate in the final days before the election, and was regarding Comey's integrity.
Clinton communications director Jennifer Palmieri forwarded to colleagues a news article in which the FBI director suggested that crime could be rising because police officers were becoming less aggressive as a result of the "Ferguson effect," anti-police sentiment following unrest earlier that year in Ferguson, Missouri.
Palmieri wrote, "Get a big fat 'I told you so' on Comey being a bad choice." Critics say the remarks imply the aide was afraid Comey wasn't easily controlled by liberals. She sent the email to Clinton's campaign chairman, John Podesta, and to the private email address of someone who appeared to be White House spokesman Eric Schultz. Neither responded, and Palmieri did not appear to write further about the subject. Palmieri was the White House director of communications when Comey was appointed FBI director in September 2013.
The release of the hacked email came days after Comey notified Congress that during an investigation of Clinton aide Huma Abedin's now-separated husband, former Rep. Anthony Weiner, FBI agents found indications that a laptop used by Weiner contained some emails related to the FBI's earlier probe of Clinton's private computer server and emails. The disclosure roiled the presidential campaign, and last week Palmieri openly criticized Comey about the notification.
Comey had announced in July that he was recommending against criminal charges in the investigation of Clinton's use of her private server, but the FBI director also delivered blistering criticism that Clinton and her colleagues at the State Department were "extremely careless in their handling of very sensitive, highly classified information."
The Palmieri email was among more than 2,000 messages newly published Thursday by WikiLeaks. The emails were hacked from Podesta's private account.
The U.S. government has said the Russian government was responsible, although WikiLeaks founder Julian Assange said earlier in the day that no government or any other state parties had given the stolen emails to WikiLeaks.
In another hacked email published Thursday, Palmieri told Podesta and longtime Clinton adviser Neera Tanden in June 2011 that it was time to "bust in that house and get Huma the hell out of there."
Palmieri was not explicit in the reference but it appears to have been prompted by the sexting scandal involving Weiner that forced him to resign from his New York congressional seat. Palmieri sent the email, which she titled "time to get in the hazmat suits," the day before Weiner stepped down after admitting he had sent a sexually suggestive picture of himself to a 21-year-old woman over Twitter.
The Associated Press contributed to this article