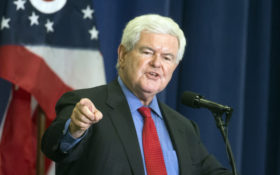 oped: Megan Kelly is out of the proverbial closet...she chopped her goldey locks and styled her hair akin to 'butch' Elizabeth...rants,raves and all the agenda driven progressive talking points...she has become a full fledged looney progressive from the get go!
Fox News would be wise to bring back Greta who is more along the lines of a Moderate Democrat (Blue-Dog) and for the most part was fair and balanced in her reporting. Megan Kelly belongs at MSNBC
and Fox News should terminate her contract before she totally destroys the Fair and Balanced moniker of Fox News!
Newt SLAMS Megyn. Who won?
Former Republican House Speaker Newt Gingrich slammed Fox News host Megyn Kelly over the unfair media coverage of Republican presidential candidate Donald Trump's sexual assault allegations compared to the coverage of the damning information revealed in Democratic presidential candidate Hillary Clinton's secret speeches.
The heated exchange came Tuesday night on Kelly's program, and began with an argument over the legitimacy of polls. Kelly contends that Gingrich cannot allege Trump will win when he is losing in every poll. She cites what she calls, "non-partisan outlets trying to predict the electoral decision board," to which Gingrich starts shooting back.
"Non-partisan outlets!? Every outlet you just named is part of the establishment!" Gingrich exclaimed. To back up his allegations of rigged polls, he cites one which claims Clinton will have an African American turnout similar to Obama, and a Wall Street Journal poll that he alleges took out eight percent of the vote because they didn't like the turnout.
But what he said next really set Kelly back.
Gingrich cited the fact that the three major networks spent a total of 23 minutes covering the leaked Trump audio tapes, and a shocking 57 seconds covering Clinton's secret speech in Brazil in which she said her dream is an open border.
In return, Kelly argued that Trump's audio tapes are more news worthy than the revelation Clinton is lying to the American people.
Kelly closed the conversation by instructing Gingrich to take his "anger issues and spend some time working on them."
Full Interview:
https://www.youtube.com/watch?v=SYdNoeJ4h0Y
The Horn Editorial Team