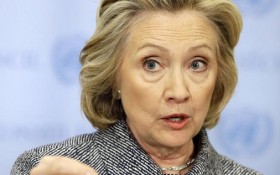 As the battle for the Democratic party's presidential nomination heads to delegate-rich New York, supporters of Vermont Sen. Bernie Sanders are making a shocking allegation.
A scam that kept thousands of Sanders backers from casting their ballots in Arizona last month is being run again in New York.
And they're concerned that Hillary Clinton and the powerful party forces backing her may be behind it.
As one
Reddit user from New York
put it, "voter suppression is alive and well here."
For last month's Arizona primary, thousands of Sanders backers who had previously been registered as independents switched their party registrations to Democrat so they could vote.
But when they showed up at their designated polling places, they learned that their registrations had suspiciously been switched back to independent — and they were unable to cast their ballots.
And now it appears something awfully similar is happening in New York.
New York is a closed primary — which means that only registered Democrats can vote. And Sanders supporters who registered as Democrats say their party affiliations are being changed against their will.
According to a report from
The Gothamist
, "Since shortly before the late deadline to register to vote in the April 19th presidential primary in New York, state Board of Elections spokesman Tom Connolly said his office has been fielding nearly 100 calls a day from voters who are 'pissed off' about their registration status," and that "the complaints are largely coming from Democrats—'a lot' of them Sanders supporters."
Sanders supporters have taken to social media to air their grievances, many concerned that they won't be allowed to vote, even though they had properly registered as Democrats:
NYers - If you're experiencing issues with voter registration changes, this is a solution! Please share
#
FeelTheBern