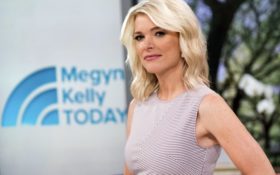 Television host Megyn Kelly is in deep trouble. Since leaving Fox News for NBC News, Kelly's ratings have been far below what executives hoped when they signed her first eye-popping $23 million annual paycheck.
After her editorial program
Sunday Night with Megyn Kelly
was unceremoniously cancelled in 2017, Kelly was given a can't-miss time slot to reinvent her career: An hour right in the heart of their flagship
Today Show
broadcast for her
Today with Megyn Kelly
.
Ratings started out a total disaster
. And
things haven't gotten much better since
.
According to a scathing report by
The New York Post, there's anger bubbling behind-the-scenes
.
"Since 'Megyn Kelly Today' launched in NBC's 9 a.m. weekday spot in September, the former Fox anchor — famed for her hard-hitting questions — has been struggling to find her footing in the bubbly world of morning news,"
The Post
reported.
"Her January Nielsen ratings in the 25-to-54-year-old demographic are nearly 30 percent lower than they were for Tamron Hall and Al Roker's show when it was in the same time slot last year."
In fact, Kelly has turned off so many Americans that
she is officially the least popular T.V. media personality in the country, TheWrap reported
.
That's reportedly bothering executives at the network — and they're not the only ones concerned.
According to AdWeek
, advertisers are starting to flee as well. Even Kelly's former colleagues are coming out against her.
Fox News' Senior Vice President of Marketing, Michael Tammero, shared that NBC has been struggling to find people interested in attending Kelly's taping —
Ouch.
— The Horn editorial team