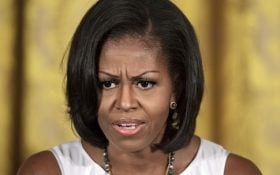 oped: Yes indeed just another *Borg* Queen see: http://sharlaslabyrinth.blogspot.com/2016/09/what-is-difference-between.html
It's a moment that Hillary Clinton hopes can reverse her sagging fortunes.
The Clinton campaign was practically giddy yesterday when it announced that
First Lady Michelle Obama would be joining Hillary on the campaign trail.
But Michelle Obama has a big secret that she's hoping millions of Americans forget.
She can't stand Hillary Clinton any more than the rest of us — and she hasn't been shy about saying so.
During the 2008 Democratic primary race, Michelle
blasted
Hillary for not being an honorable role model for what families should look like.
In the same year, in an
interview
on Good Morning America, when asked if she would endorse Hillary should her husband not win the primary, she dodged the question saying, "I would have to think about that."
Her hesitation reflects strong feelings of distrust the First Lady ha
s
for Hillary, and it is apparent that those emotions have not faded over the years.
A
more
detailed
and up-to-date
description of their
strained
relationship is revealed in Kate Anderson Bower's new book, "First Women, the Grace and Power of America's Modern First Ladies."
Bower reports the negative words exchanged between the two women during the 2008 presidential campaign, "left deep and lasting scars on both the Clinton and Obama camps, and they are still shockingly fresh."
Sources close to Clinton told the author that Hillary is running for president now out of a vengeance for the loss in 2008.
Hillary mocked Barack Obama's campaign slogan of "hope and change," an act that Michelle took great offense to.
Her feelings are evident in the observation that Hillary was never invited to dinner at the Obama White House during her tenure as secretary of state.
Michelle Obama allegedly was hoping that Vice President Joe Biden would run for president in 2016 and keep Hillary out of the presidential race.
But
the dislike Michelle has for Hillary is mutual,
and
Clinton aides suggest
ed
to Bower that Hillary didn't think Michelle did enough as First Lady.
In a presumed desperate effort to keep Donald Trump out of the White House, Michelle will attempt to conceal her hatred for Hillary and campaign with her in Northern Virginia on Sept. 16
.
Mrs. Obama's task will be to urge all voters, but especially young people, in hotly contested Virginia to support Clinton and running mate Tim
Kaine
in the Nov. 8 election.
She'll also urge people not to miss the state's Oct. 17 deadline to register to vote.
But don't be fooled by the kind words Michelle will predictably read off a teleprompter about Hillary.
They're not friends — just strange and desperate bedfellows who apparently otherwise can't stand each other's company.
— The Horn editorial team